Here at Yr Hen Lyfrgell we offer a wide range of meeting, conference and events facilities to hire in this unique central location. Available seven days a week with great transport links nearby it's the perfect location for any corporate or community event.
With an audio system, projector, screen and more all bookings will benefit from a selection of state of the art audio visual facilities. Our expert and experienced team can support you with anything from advice on organising your event to dedicated technical AV support.
We also offer additional simultaneous translation services from Welsh to English for any event provided by Bilingual Cardiff's specialist team.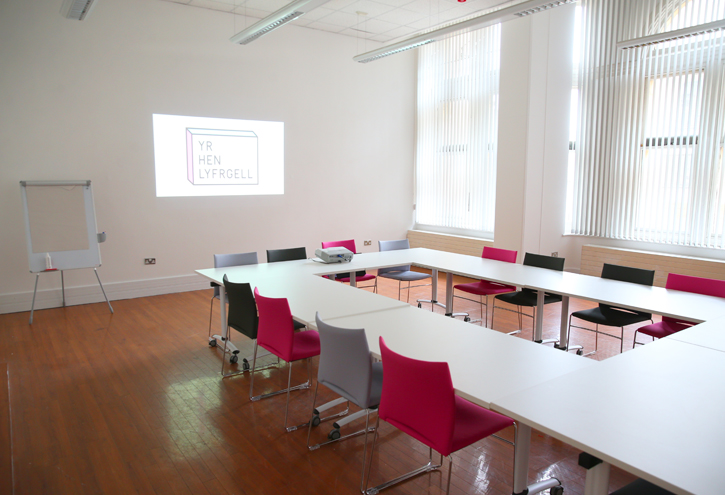 CONFERENCE ROOMS
Our splendid conference room sits up to 120 people and is suitable for conferences, staff meetings, launch events, training days, parties and concerts.
Meeting room
Our bright meeting room holds up to 30 people in boardroom style and is perfect for a smaller meeting or as a breakout room.
Simultaneous translation
For an extra free, we can also arrange simultaneous translation from Welsh to English for any event. This service is provided by Bilingual Cardiff.
Catering and refreshments
The Milk & Sugar team, Yr Hen Lyfrgell's cafe, is responsible for organising catering and refreshments for meetings and events held at Yr Hen Lyfrgell. They are ready to respond to any enquiries or demands you may have.
"Thank you for providing the perfect venue for our winter staff AwayDay. The Conference Room was an ideal space for our training and learning exchanges - bright, comfortable and with plenty of space for us to break out into smaller groups. The additional Meeting Room and your beautiful cafe were also great spaces for further break outs and reflection spaces. Everyone enjoyed the lunches and the touches of bara brith, Welsh cakes and use of Welsh products was appreciated.
Thank you too for going 'above and beyond' responding to last minute requests and changes to our schedule. Nothing was too much trouble - providing an extra flip chart, an extra data projector, a space for an unexpected online interview with a client - even agreeing to stand in to take a photograph of us all! You helped make our AwayDay a great success and provided the warmest of Welsh welcomes in the wonderful setting of Yr Hen Lyfrgell."
Carol Jones, The Audience Agency
Private hire cafe bar area
MILK & SUGAR
Available for full private hire 7 nights a week
Private, short venue hire - minimum 2 hours - £150 (includes bar/waiting/kitchen staff)
Private, full venue hire (between 5pm - 12am) - £350 (includes bar/waiting/kitchen staff)
Private, full venue hire (between 5pm - 2am) £550 (includes bar/waiting/kitchen staff)
50% deposit required, non-refundable if cancelled within 14 days prior to event.
Security - minimum of 4 hours (extra costs)
Technical Staff/Advisor - Minimum 2 hours (extra costs)